Come visit our Warehouse of Horsepower and Chrome! Whether you visit online, or in person, we will do everything possible to help you with your classic car needs. Our no pressure approach will put you at ease, after all, It is about the cars in the end.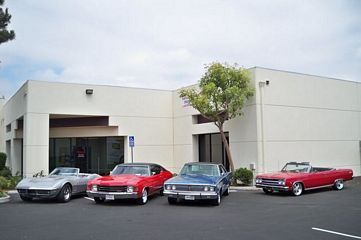 We love consignments and will display your car in our secure building featuring an alarmed, sprinklered and weatherproof environment.
We have built a reputation and a following with people who buy, sell and trade the kind of vehicles that make California PlayToys, Inc. the special place it is. We have customers from all over the world. We ship vehicles throughout the United States as well as overseas. Please read the testimonials from our clients on our website. At California Play Toys, Inc. you will find classic, muscle and antique cars, sports cars and trucks. Check out our inventory! We offer shipping, financing, classic car insurance and appraisal service. Accurate appraisals require education and experience. We're qualified to give you an estimate of the value of your vehicle.
California PlayToys, Inc. has many consigned vehicles. If you have a vehicle that you'd like to sell, allow us to use our experience to find it a good home. Thank you for visiting our Web Site - We look forward to hearing from you....